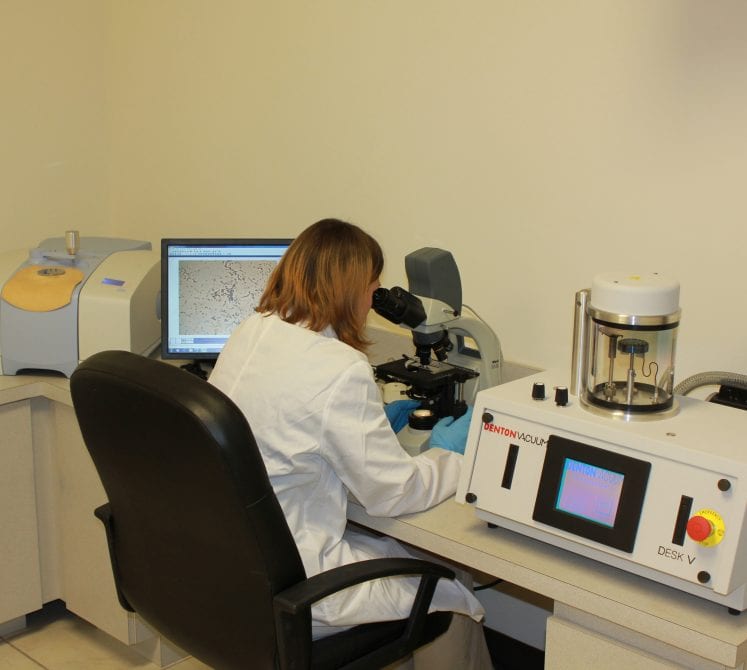 Laboratory Technician
Summary:
We are immediately seeking a full-time Lab Technician to join our team of professionals in Tampa, Florida. All applicants must have an A.S. in Chemistry, and a minimum of 2 years wet chemistry experience in a professional setting.
MUST have a chemistry degree. Please do not apply if your only lab experience is related to blood-work laboratories – that is irrelevant experience for this position. We are looking for people who can perform chemistry related calculations and have experience in performing chemical experiments and chemical analyses.
Job Duties:
Sample preparation
Wet chemistry
Optical and electron microscopy
Elemental and IR analysis for identification of deposits
Accurate record keeping of data
Assistance in preparing reports
Skills:
Ability to calibrate and operate laboratory equipment
Good math skills and ability to perform basic calculations
Good writing skills and grammar
Computer literate with good knowledge of MS Excel, MS Word, and Adobe Acrobat
Qualifications:
Associates or Bachelor degree in chemistry (Candidates without chemistry degrees need not apply)
Strong verbal and written communication skills
All applicants will be required to undergo an in-lab evaluation at our facility in Plant City, FL.
Customer Service and Sales Support
Summary:
Respond to customer order and quotation requests received via outside salespersons, telephone and e-mail. Coordinate with other departments in handling purchase orders, delivery dates, and providing service to customers. Support salespeople as needed to help grow the company's customer base and maintain existing customers.
Job Duties:
Call existing customers that have not purchased for an extended period of time (inactive accounts) to ensure that they don't run out of product.
Forward leads to Sales Managers for follow up and closing.
Manage and maintain CRM database of prospects.
Identify public bids that are relevant to the company's products, and prepare and submit compliant bids to gain new municipal/state/federal contracts.
Maintain a strong working knowledge of the competition within the market through research of competitive products, self-education and training sessions.
Prepare and submit proposals. Generate oral and written quotations.
Track open purchase orders
Perform follow-up to ensure timely shipment of materials and customer satisfaction
Provide excellent customer service
Provide support to company staff in a wide variety of marketing and sales related tasks including arrangements for trade shows, working with graphics designers to update marketing materials, etc…
Support sales staff as needed to ensure growth of company's customer base, and maintenance of existing customers.
Must be attentive to detail in all activities
Skills:
Meticulous attention to detail in all daily duties
Ability to do juggle multiple projects while still remaining extremely organized
Self management of time and priorities
Must possess excellent written and verbal communication skills. This includes clear articulation and the ability to assist customers in resolving any technical or logistics related issues by acting as an intermediary with the relevant departments.
Must have excellent computer skills.
Must be very well versed in the use of MS Office and Adobe products.
This position will be very fast paced and will require performance of multiple parallel duties at any given time.
Must be self driven.
Qualifications:
At least 2 years' experience in a B2B customer service and sales support role.
Minimum 2 year Associate's Degree is required but a Bachelor's Degree is preferred. Science related degrees will be given a higher preference.
Technical Sales
Summary:
The Technical Sales Professional will be responsible for maintaining existing accounts and developing new business directly and through distributors. They will provide customers and distributors with technical support as needed to maintain their accounts. This position requires direct experience in sales or operations within the reverse osmosis membrane treatment industry.
Job Duties:
Prospect and contact potential customers and industry partners, identify the decision-makers.
Oversee all aspects of the customer relationship; including making cold calls, following leads, creating opportunities and closing business.
Build a plan for customer visits, upcoming bids, pipeline, meeting sales goals.
Build relationships with consulting engineers, contractors, owners and plant operators.
Develop new business by cross selling, consultative selling and offering technical solutions.
Recruit and develop distributors to help the company grow its market share geographically and within new market sectors.
Promote our products through technical workshops, trade show papers, operator shows, brown bag seminars, distributor training, webinars, etc.
Provide technical support to end-users and distributors, including running projections, troubleshooting, explanation of technical reports and collection of samples for analysis.
Skills:
General knowledge of water treatment and membrane pretreatment processes.
Understands RO and MF/UF at a level sufficient to troubleshoot and provide system optimization solutions.
A general understanding of membrane fouling and scaling.
Experience with membrane cleaning.
Ability to identify potential chemical opportunities and to convert them to a sale.
Ability to effectively communicate in written and verbal form to technical and non-technical audiences.
Independent and highly motivated self-starter.
Good interpersonal skills.
Organized and responsive.
Good working knowledge of Microsoft Office, and general computer skills. Experience with CRM software a plus.
Qualifications:
A degree in Chemical Engineering or Chemistry is preferred.
5+ years of sales or operational experience within the membrane water treatment industry.
Demonstrated ability to perform and produce results while maintaining positive relationships.
Willingness to travel within territory 70% or more, as needed to develop new business and visit all customers at a reasonable frequency throughout the year.